Welcome to DASK Immigration, your dedicated companion on the path to achieving your Canadian aspirations. With a strong tradition of excellence, we are committed to guiding you through the intricate landscape of Canadian immigration.
At DASK Immigration, our team comprises experienced Regulated Canadian Immigration Consultants (RCICs) who bring a wealth of expertise to every case. Beyond their proficiency, our consultants are empathetic individuals who recognize the significance of your journey.
Our commitment to excellence is underscored by our esteemed memberships with the distinguished Citizenship and Immigration Consultants of Canada (CICC) and the reputable Canadian Association of Professional Immigration Consultants (CAPIC). These affiliations mirror our unwavering dedication to the highest ethical and professional standards.
From navigating the complexities of Express Entry to facilitating Family Sponsorships, Study Permits to Work Opportunities, Visitor Visas to Provincial Nominee Programs, we offer a comprehensive array of immigration services tailored to your specific needs. We firmly believe that each case is distinct, approaching every situation with personalized attention and meticulous care.
DASK Immigration represents more than just a service provider – we're your partners in transformation. Your dreams lie at the heart of our mission, and we are committed to serving as the conduit that turns aspirations into reality. Our success is intertwined with your success, and we joyfully celebrate each achievement along the way.
Embrace the journey with us at DASK Immigration, where your Canadian future is not only a process but a collaborative endeavor towards your flourishing tomorrow. Your narrative of success begins right here.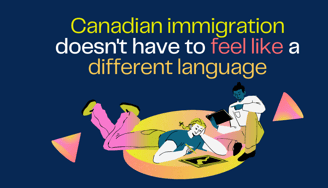 Client-Centric Approach: We prioritize your needs, concerns, and dreams. Your journey is our journey, and we are committed to providing personalized, attentive support at every step.

Ethical Integrity: Honesty, transparency, and ethical conduct are non-negotiable. We adhere to the highest standards of integrity, ensuring your trust is well-placed.

Expertise with Empathy: Our experienced team combines professionalism with compassion. We understand the human aspect of immigration and strive to make your experience as smooth as possible.

Continuous Learning: The field of immigration is dynamic. We stay updated on the latest regulations, policies, and practices to provide you with accurate and timely information.

Diversity and Inclusion: We embrace diversity in all its forms. Our services cater to a wide range of clients, and we treat each case with respect for cultural nuances and individual circumstances.

Collaboration: Your journey is a partnership. We work collaboratively, leveraging our expertise and your aspirations to chart the best course forward.

Strategic Guidance: We don't just navigate; we guide. Our approach is strategic, ensuring that each decision aligns with your long-term goals.

Service Excellence: We are committed to delivering exceptional service. Your satisfaction and success are our ultimate measures of achievement.

Empowerment through Information: We believe informed decisions are empowered decisions. We strive to provide you with clear, accurate, and comprehensive information to make choices confidently.

Celebrating Success: Your victories are our victories. We celebrate every achievement, no matter how big or small, and take pride in being a part of your Canadian journey.
At Dask Immigration, these principles are the foundation of our service, shaping how we serve you and guide you towards making your Canadian dreams a reality.exceptional service.
Office Administrator-Clients Services
Office Administrator-Operations